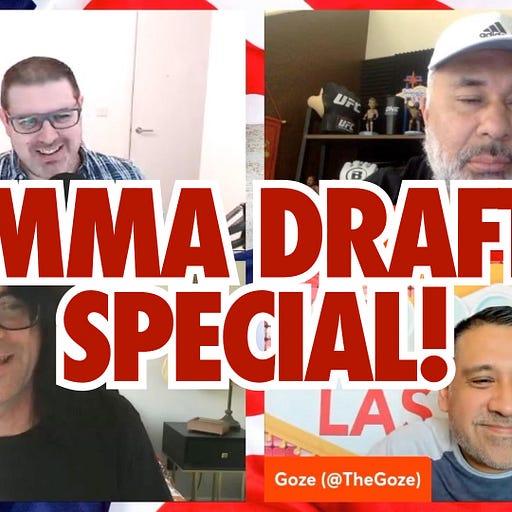 Apr 29 • 1HR 9M
United Nations: Fantasy MMA Draft Special
On draft night, The Brit Pack United Nations convened their own selection meeting as they drafted their 11-fighter rosters to score points for the rest of 2022. But whose lineup will fare best?
Fighting talk with a British accent, hosted by UK-based MMA media veteran Simon Head.
NFL Draft fever had the sporting world gripped on Thursday night as the first round of the draft took place in Las Vegas.
Not wanting to miss out on the fun, we at The Brit Pack United Nations gathered together to conduct a draft of our own – The Brit Pack United Nations Fantasy MMA Draft.
The format was (relatively) simple:
11 rounds, one fighter per weight class, from women's strawweight to men's heavyweight (leaving out the women's 145 division, due to a lack of depth)

Each team must contain at least one fighter from each of the UFC, Bellator and PFL

Each team is allowed no more than ONE active UFC or Bellator champion
The fighters will score points for the rest of the year, earning points for our teams using The Brit Pack's Power Rankings scoring system as follows…
Scoring System
The Brit Pack United Nations Fantasy MMA scores are determined by an adaptation of the PFL's league scoring system.
Fight appearance: 1 point

Win (of any kind): 3 points

Additional bonus points for a finish:

Round 1 finish: 3 points

Round 2 finish: 2 points

Round 3-5 finish: 1 point

Championship bonus (for winning a title fight with any of the aforementioned promotions): 5 points
Listen and find out who went early, who went late, and decide which lineup has the best chance of success by the end of the year.