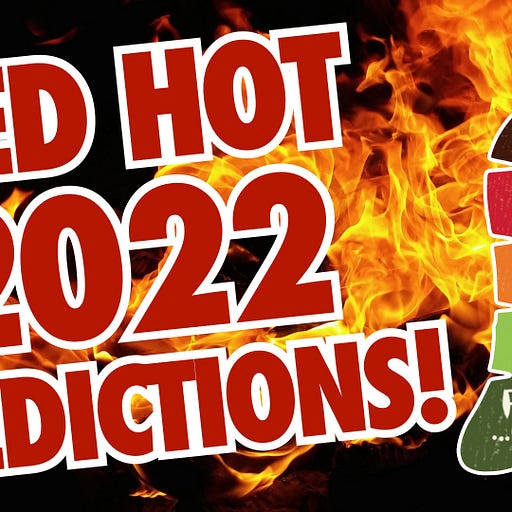 Jan 4 • 1HR 8M
The Nando's-inspired 2022 MMA 'Hot Takes' special
We love Nando's, and just like their spice-o-meter, our 2022 MMA takes crank up the heat. Some might even become reality...
Fighting talk with a British accent, hosted by UK-based MMA media veteran Simon Head.
Happy New Year from The Brit Pack! We hope you enjoyed the holiday season and are launching into the new year with gusto and optimism.
We're kicking off 2022 with our annual hot takes special as we offer up our outlandish predictions for the upcoming year in MMA.
Last year, we gathered behind our mics to offer up our MMA hot takes, using the famed spice-o-meter ratings used by our favourite chicken-based eatery, Nando's.
Our picks may not have aged well (at all!) but we loved doing the show, and now, one year on, we're donning the oven gloves for another show packed with hot takes and MMA predictions.
The spice-o-meter is our guide once again as we present our MMA hot takes for 2022, with our takes getting ever hotter as the spice rating increases.
We've no idea how many of them will come to fruition (and we recap just how many of last year's takes actually played out in real life) but we humbly offer them here, for your entertainment.
In addition, we also offer our annual UFC divisional champion predictions, where we state who we think will end 2022 with championship gold in each of the UFC's 12 divisions.
Check out our predictions, and our picks, and get set for another huge year of MMA. We'll be there to talk you through it, every step of the way!